An Innovative Developer of Iconic Properties
Vornado's asset redevelopment capabilities are best in class. The Company has a proven history of successfully transforming yesterday's buildings to meet the needs of today's and tomorrow's users and our team has demonstrated significant expertise in complex development projects.
Vornado's total asset redevelopment capabilities are best in class. The company has a proven history of successfully transforming yesterday's buildings to meet the needs of today's and tomorrow's users. Our team has demonstrated significant expertise with complex planning and have successfully executed difficult development projects. These skills are critical in our core market of New York City, where the best opportunities for value creation are older properties and the conditions are largely unfavorable to ground-up development.
The following content is an image carousel with various images of VNO properties. For screen reader users, all slides are visible at all times, so you may disregard the next and previous buttons.
A Distinguished Contributor to the Urban Landscape
Vornado has developed or redeveloped millions of square feet of real estate in New York City.
Mixed Use
Vornado's ongoing transformation of the midcentury PENN 1 to an office building of the future is redefining working in The PENN DISTRICT. The first three levels deliver WorkLife, an amenity ecosystem for tenants to focus on both work and self-care. The lobby offers two options for grab and go food Office Hours and Blue Bottle, opening soon. A social stair connects the main entrance on the first level to the amenities on levels two and three. The social stair's bleacher seats and large LED panels are the perfect location for casual meetings or private events. Level two features The Landing - a soon to open full-service restaurant with private dining rooms, multiple tenant lounges for socializing and working, WorkLife WellBeing - a 35,000 SF fitness and wellness center, WorkLife Meetings - a 20,000 SF conferencing facility and WorkLife Office Suites - over 80,000 SF of adaptable workspace. The exterior building renovation is nearing completion with significant upgrades, including full facade painting - taking the mullions from silver to black. Distinctive color change lighting in the building crown now illuminates PENN 1's place in the ever changing skyline.
Vornado has recently commenced the redevelopment of PENN 2, famously located directly above Penn Station, on one of the unique double-wide blocks in New York City. The new PENN 2 will transform this 1968 office building into an iconic, world class tower. By reskinning the entire building with a new curtain wall, adding distinctive corner loggias to every floor and extending the base floors toward Seventh Avenue, PENN 2's 430 foot long blockfront will contain over 88,000 SF of double-height, column-free space. The new triple-height lobby will relocate PENN 2's office entrance off of the newly built tree-lined 33rd Street plaza. This new architectural icon will also feature various flexible tenant spaces for working or socializing and private events - including a 280-person town hall, casual lounges, rooftop pavilion, outdoor green space and over an acre of outdoor terraces with 360 degree NYC views.
THE FARLEY BUILDING
Penn District
The Farley Building, the former 1912 James A. Farley Post Office, is undergoing a complete transformation to become New York City's best-in-class creative office hub. This adaptive reuse of an iconic civic building designed by McKim, Mead and White, famed architects of original Penn Station, will feature 740,000 square feet of office space, 120,000 square feet of curated retail and new majestic train hall. This horizontal campus is located in the center of New York's Midtown West submarket on top of the busiest transportation hub in the country with nearly every NYC subway line, Amtrak, LIRR and NJ Transit directly accessible from the building. The Farley Building features large, open floorplates to foster collaboration and innovation, slab heights of over 17 feet, 40' x 32' column spacing, and multiple office lobbies. The Fifth Floor will contain nearly 70,000 square feet of outdoor landscaped park space to inspire the building's tenants to interact with nature and to encourage movement, wellness and fitness. In addition, a 6,000 square foot, column-free glass pavilion located on the Fifth Floor features a 25 foot ceilings and glass walls that open to the building's outdoor green space.
731 LEXINGTON AVENUE
Midtown East
In 2005, Vornado completed 731 Lexington Avenue for its Alexanders affiliate. Designed by Cesar and Rafael Pelli, this 1.3 million square foot, 56-story, mixed use tower adjacent to Bloomingdale's in Manhattan was hailed as "architectural bravura" by The New York Times. It is best known for its signature elliptical courtyard connecting 58th and 59th Streets. The building is the world headquarters of Bloomberg L.P. and offers approximately 250,000 square feet of multitiered, grand-scale retail. It is also the site of One Beacon Court, an exclusive collection of 105 high-value luxury residential condominiums, boasting spectacular views of Central Park and panoramic views of all of New York City.
Office
770 BROADWAY
Midtown South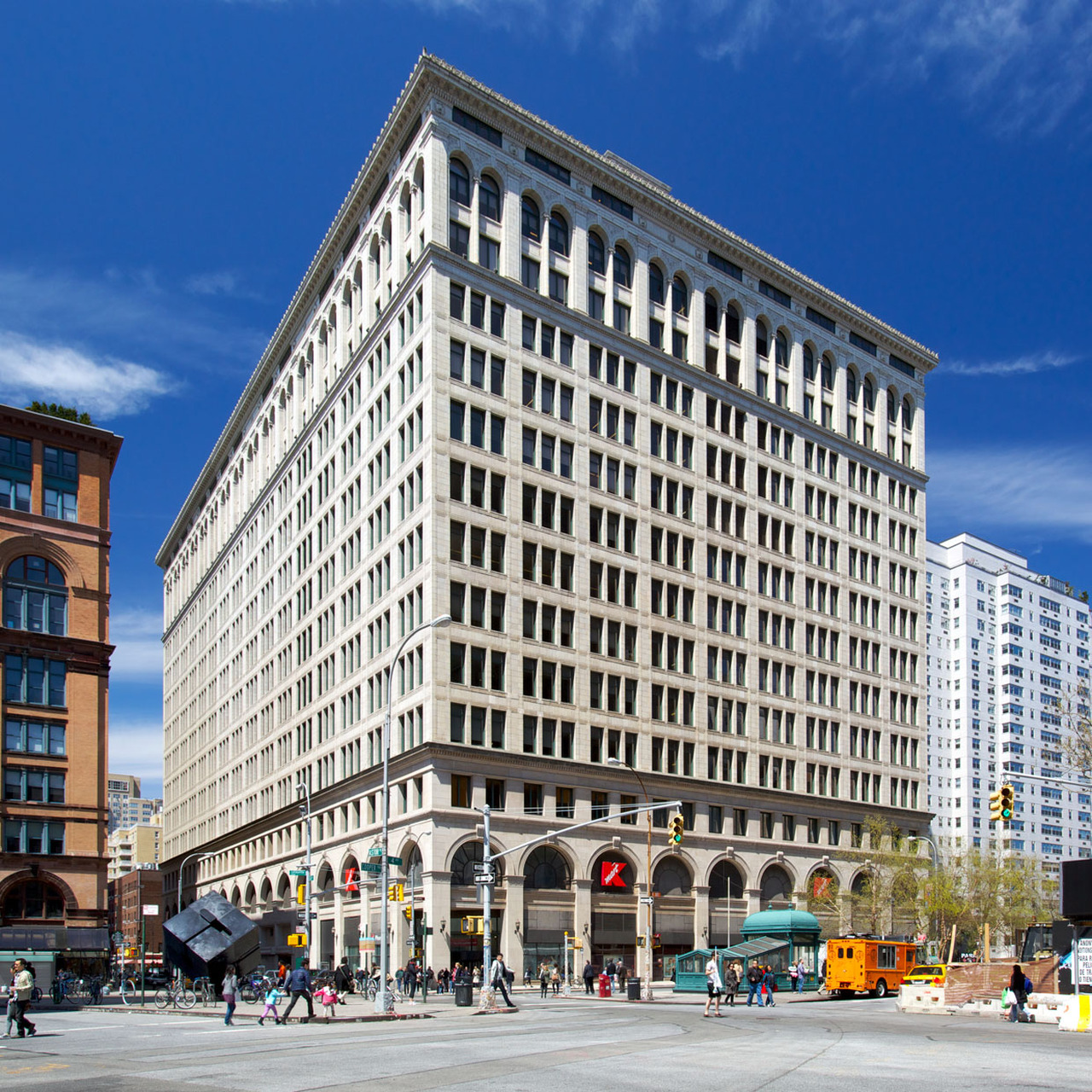 Vornado transformed the historic Wanamaker's department store at 770 Broadway into a 21st-century office environment and creative hub, catering to some of the world's best-known technology and media leaders. The 1-million-square-foot landmarked building was completely restored with a new postmodern lobby by Hugh Hardy; state-of-the-art infrastructure; and an exterior lighting program designed to highlight architectural details of this historic façades. This restoration achieved LEED Silver certification. 770 Broadway is credited with helping to lead the transition of the Midtown South submarket into a 24/7 live-work-play district for tenants whose cultures are lifestyle-focused.
640 FIFTH AVENUE
Plaza District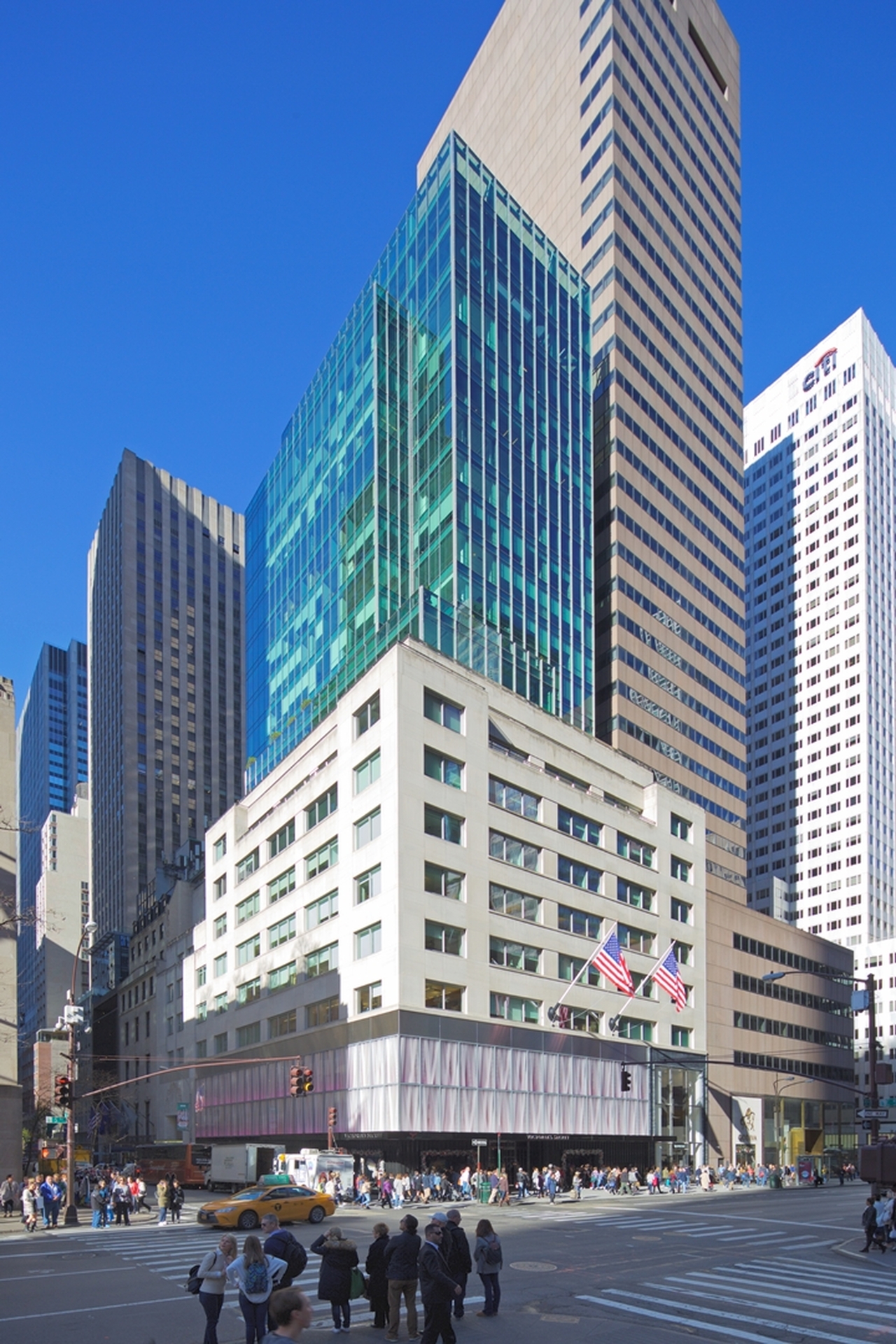 In 2005, Vornado completed a creative redevelopment of this boutique wedding-cake-style building across from Rockefeller Center on Fifth Avenue and 51st Street. To fully realize the value of the building's air rights, a 35,000-square-foot glass "jewel box" tower—designed by Kohn Pedersen Fox Associates—was added, maximizing views of Rockefeller Center's Channel Gardens and St. Patrick's Cathedral. The addition has floor-to-ceiling glass walls and a column-free space on tower floors, plus a sleek, modern lobby that features Amses Cosma glass wall sculpture.
1290 AVENUE OF THE AMERICAS
Midtown West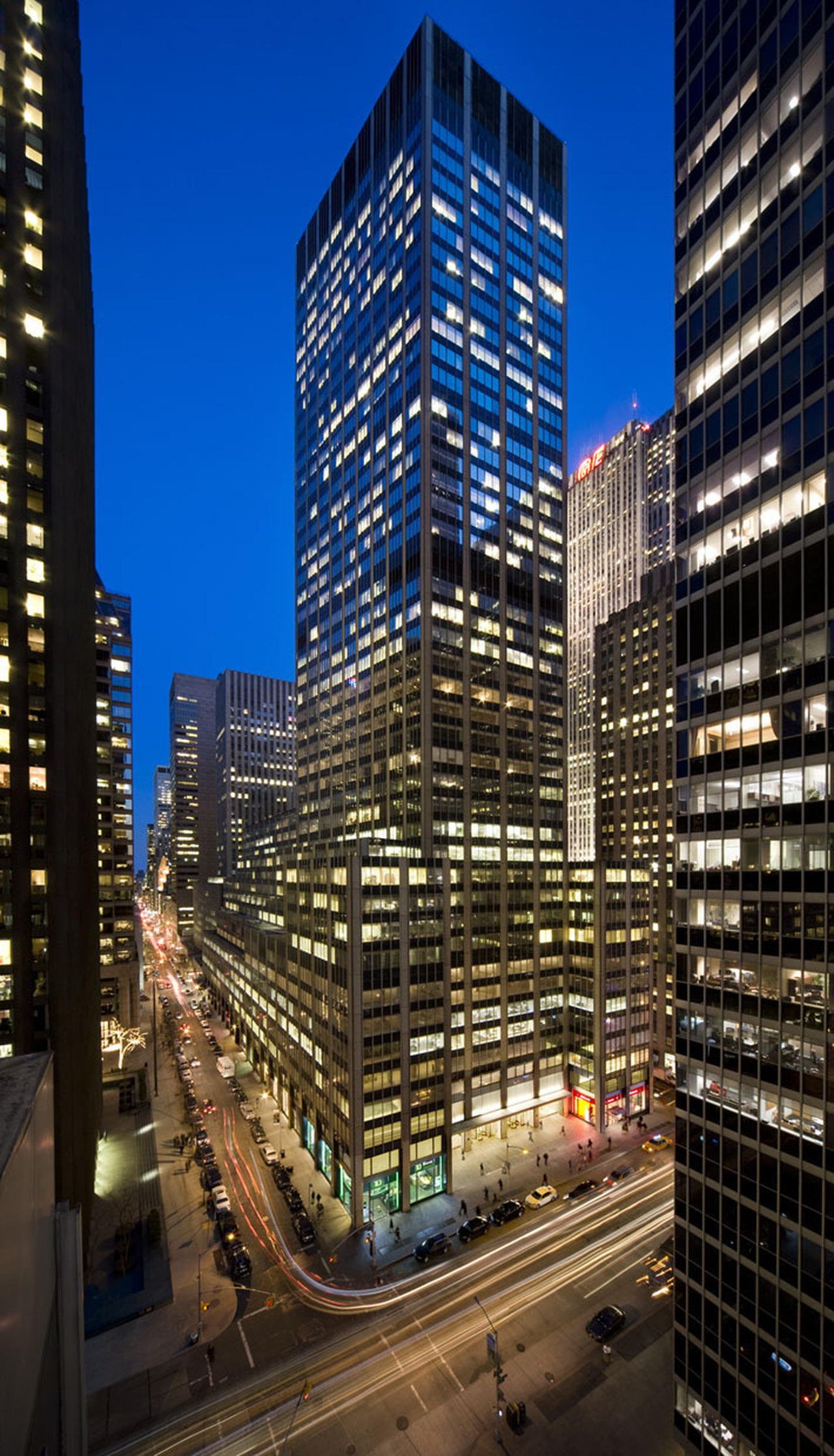 Standing 43 stories high and encompassing 2 million square feet, this quintessential American skyscraper is centrally located at the heart of Midtown Manhattan, adjacent to Rockefeller Center and the iconic Radio City Music Hall. The building's infrastructure has been fully modernized, achieving LEED-EB Silver certification. Vornado also completed a total lobby and triple-height glass curtain-wall entrance redevelopment to punctuate the building's significant Corporate Row presence.
330 WEST 34TH STREET
Penn District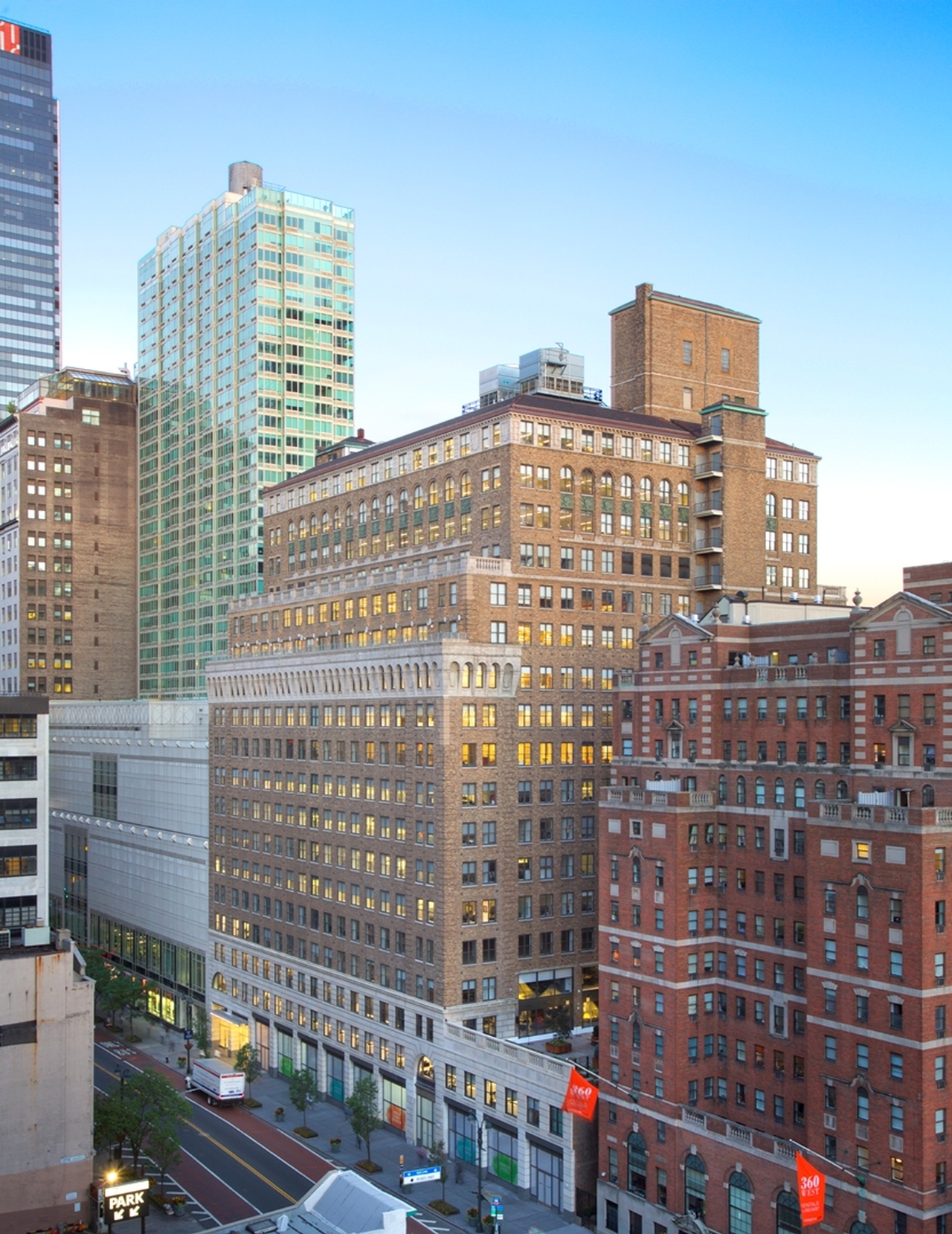 330 West 34th Street is an 18-story office property situated at the gateway to major development on the west side of Manhattan. Vornado has redeveloped the building into a destination for creative-class tenants. The redevelopment program included a fully renovated lobby, storefront and entrance, including a feature canopy with higher visibility from the avenues. Drawing on lessons learned from the build-outs of distinguished technology and media tenants at both theMart in Chicago and 770 Broadway in New York, the building will feature a ground-floor amenities center with social spaces.
280 PARK AVENUE
Plaza District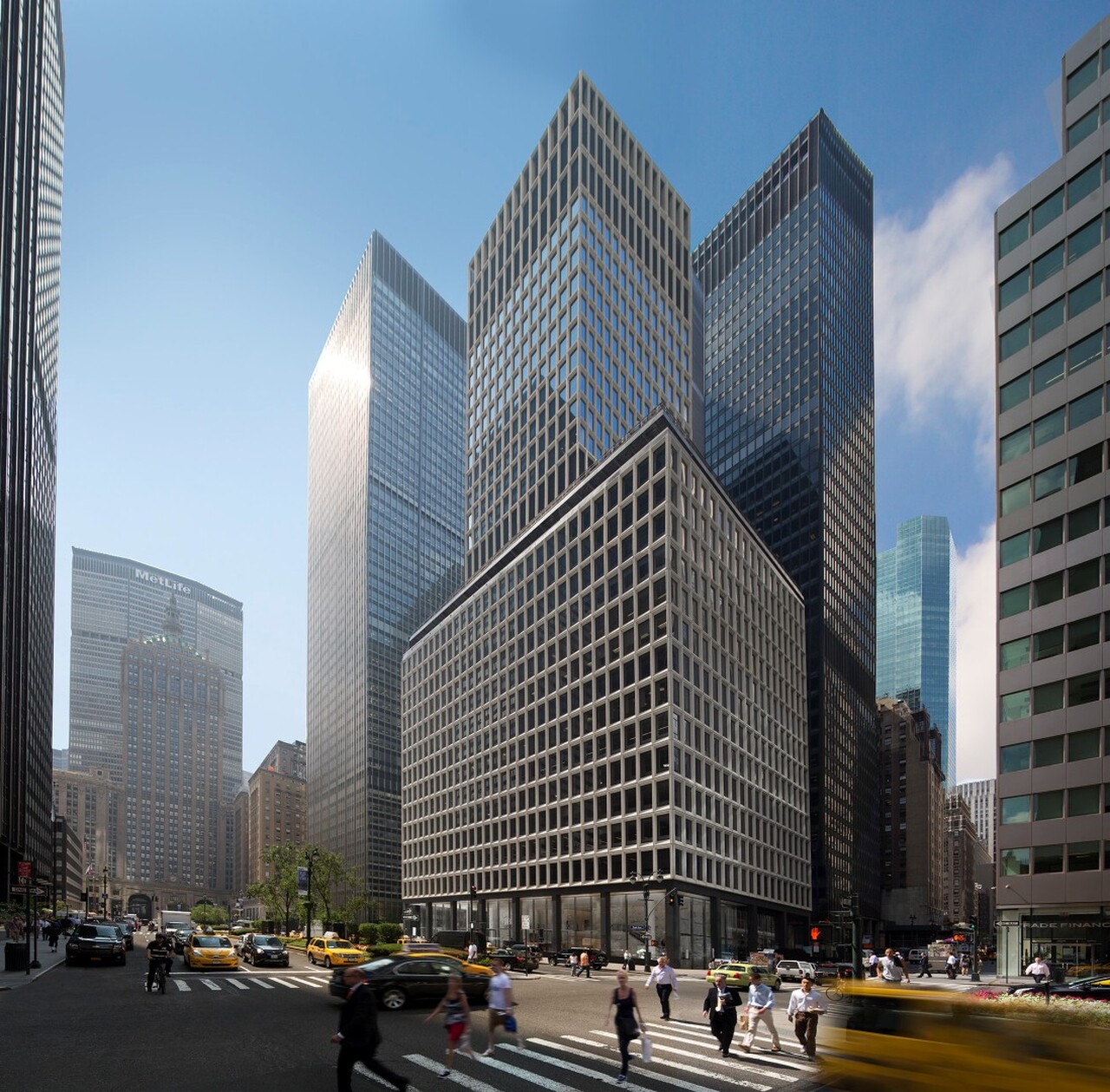 280 Park Avenue is one of Manhattan's premier corporate addresses, prominently located at the north passageway of Grand Central Terminal, the bull's-eye of the exclusive Park Avenue business corridor. The 1.3-million-square-foot complex consists of two towers built in 1961 and 1967.
Vornado and its joint venture partner have commenced a comprehensive property transformation and modernization, including a full restoration of the Park Avenue façade. The building will have a new lobby with 25-foot ceilings that spans the full block front between 48th and 49th streets on Park Avenue. Other highlights include fully redeveloped entrances and plaza areas with abundant green space; an interior atrium with a museum-quality reflecting pool; a new double-height retail presence on both 48th and 49th Streets; and a redesigned floor-to-ceiling glass bridge building to completely integrate the base floors of the entire complex.
90 PARK AVENUE
Grand Central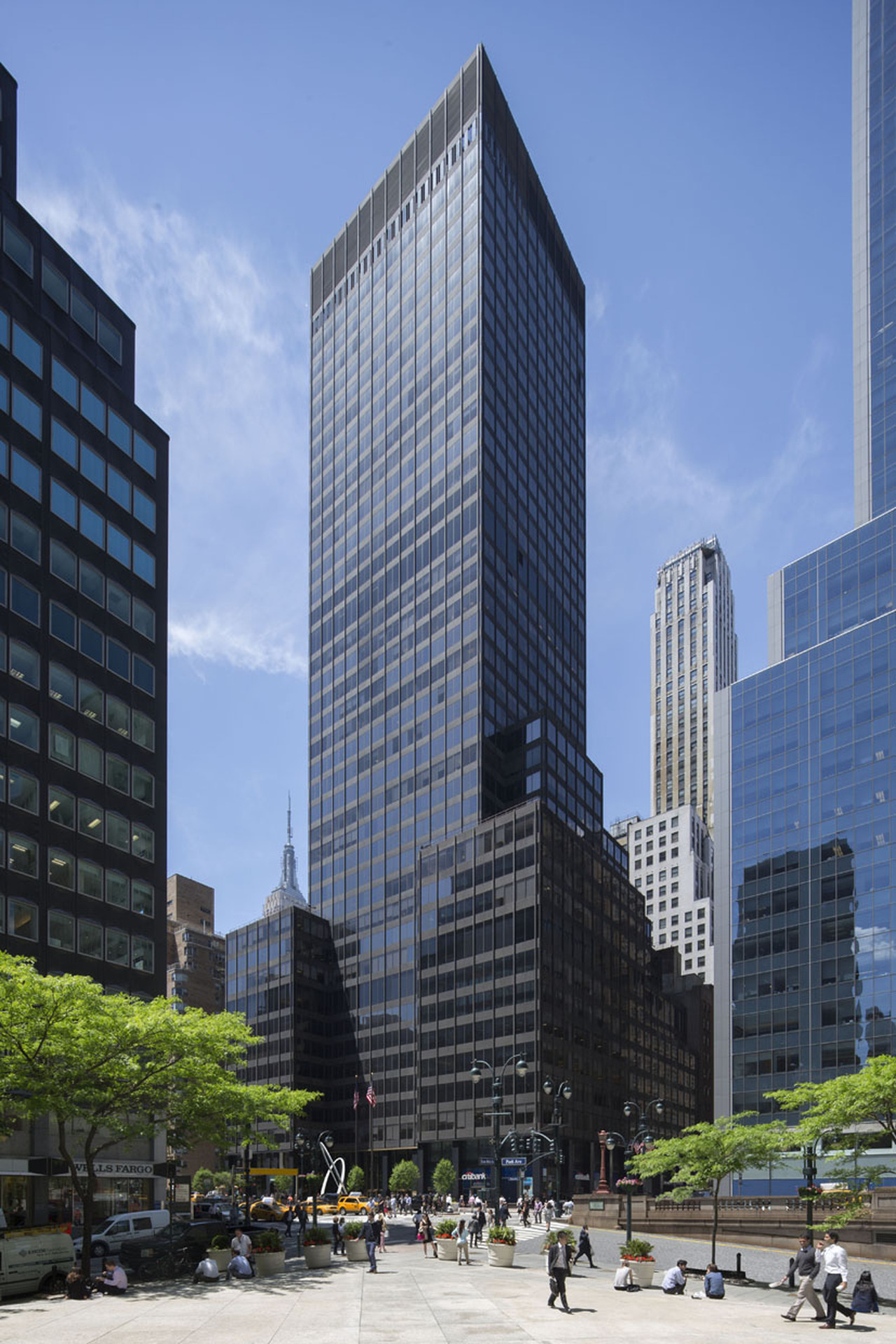 90 Park Avenue stands at the gateway to the core Midtown business district, and at the north end of the popular Murray Hill residential district. Vornado has commenced building-wide renovation to transform 90 Park into a state-of-the-art Class-A building. 90 Park's redevelopment will include a modern lobby renovation—designed by Moed de Armas & Shannon, featuring brand-new elevator interiors and destination dispatch—and a completely updated mechanical engineering and plumbing system throughout the building. The comprehensive redevelopment also includes a new electric chiller and upgraded steam chillers; new low-profile induction units and unit covers on every floor; new turnstiles; extended base building HVAC hours; a tenant proprietary generator; and new first-class restrooms on every floor.
7 WEST 34TH STREET
Penn District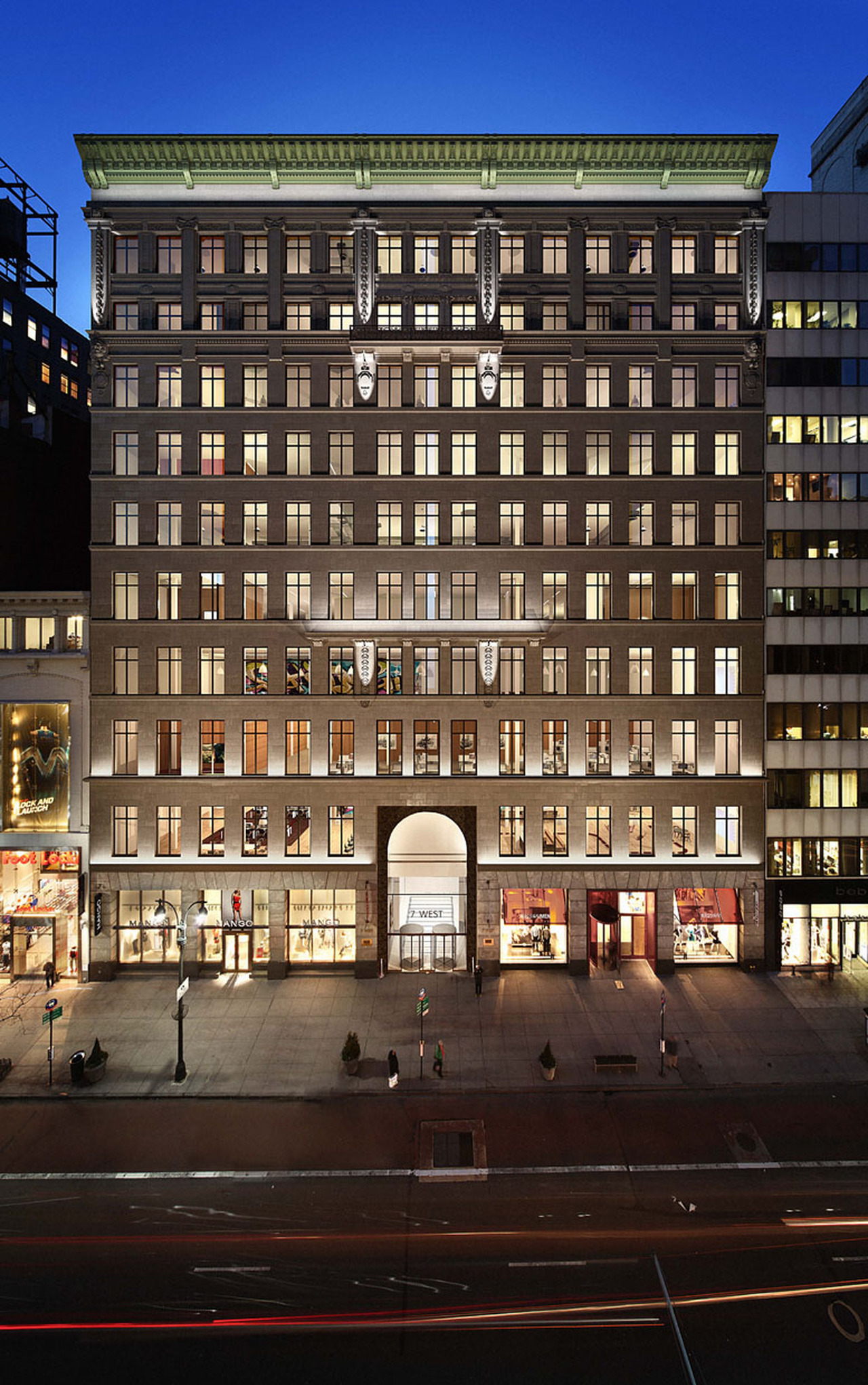 Vornado has substantially completed the conversion of 7 West 34th Street into a fully modernized building, fully leased in 2014 to Amazon as their first New York City headquarters." Given its unique location, it will link the most important transportation corridor in New York City, Penn Station — the commercial district of Midtown — to the upscale modern nightlife and dining amenities of the popular Midtown South district.
61 NINTH AVENUE
Midtown South
61 Ninth Avenue is adjacent to Apple's Meatpacking Flagship Store on Ninth Avenue and West 15th Street and across the street from the Chelsea Market and Google's NY headquarters. The 165,000 SF office building was designed by Rafael Vinoly Architects and developed by Vornado Realty Trust in the heart of Google's Manhattan Campus, with prominent views west toward the Hudson River. The building design takes advantage of these views by providing unique floor layouts with multiple private terraces for each tenant. These pocket parks are propagated throughout the building, providing unique terrace spaces, and transforming the typical office, conference room, and breakout space into an integrated indoor-outdoor environment. The flat slab construction and exposed mechanical systems allow for flexibility while providing maximum ceiling heights. The project incorporates sustainable design strategies and is a LEED Gold certified building.
512 West 22nd Street is located just west of 10th Avenue on the High Line at the Chelsea Thicket. The 172,000 SF office building, designed by CookFox Architects and developed by Vornado Realty Trust and the Albanese Organization, redefines the modern workplace. The buildings' architecture blends industrial elements of West Chelsea's past with ultra-modern, state-of-the-art design for today's distinguished tenants. The network of private, double and single height terraces provides endless light and High Line views. Vornado and Albanese are committed to continue to deliver sustainable workplaces, and are proud to announce 512 West 22nd Street achieved LEED gold certification.
6606 Broadway is the gateway to SoHo. Located on Houston Street, between Broadway and Crosby Streets, the 34,000 SF ground up development has over 22,500 SF of open, modern office space. The office space has a dedicated entrance on Crosby Street steps away from the Broadway-Lafayette Subway Station in the middle of the trendiest restaurants and shopping SoHo and The Village have to offer.
Retail
4 UNION SQUARE
Soho/Tribeca/Downtown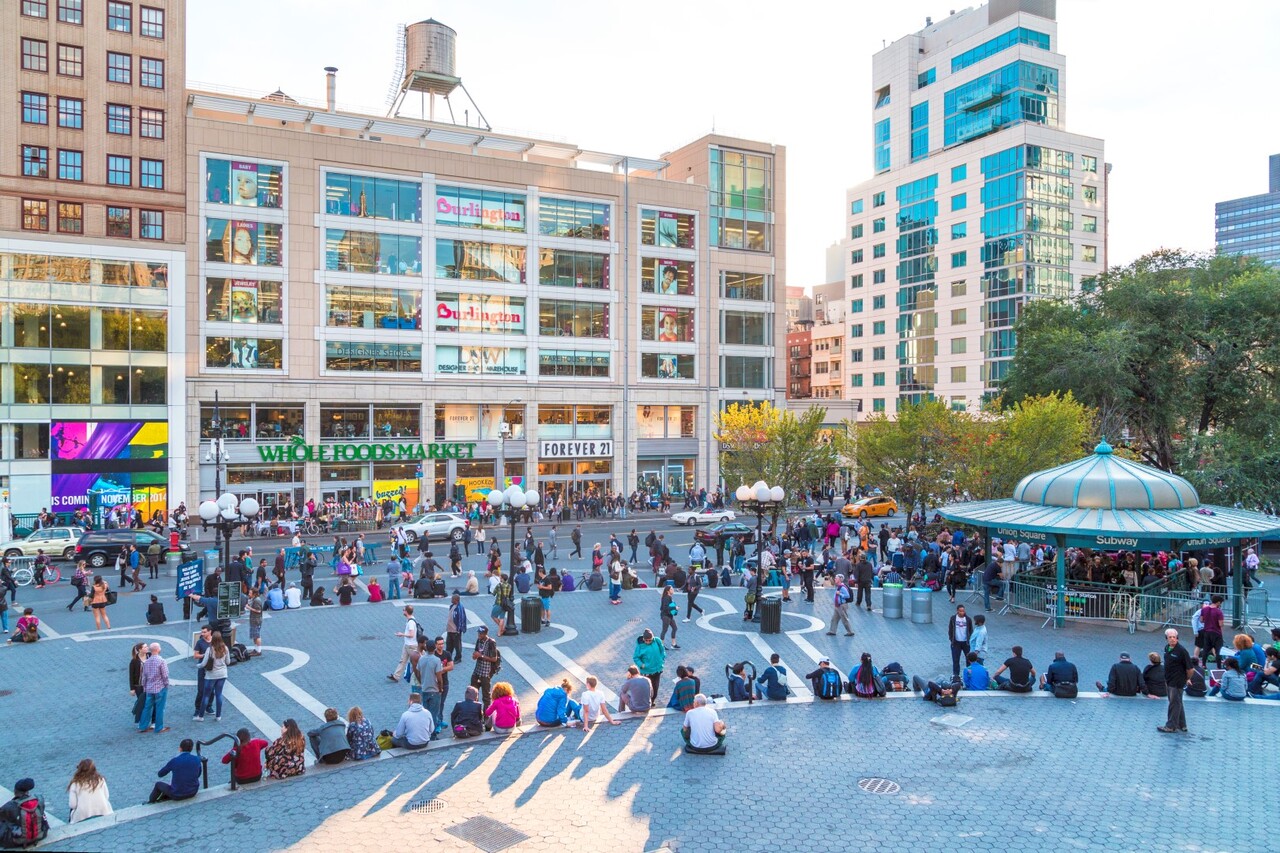 Completed in 2005, Vornado redeveloped 4 Union Square South from a single department store into 200,000 square feet of multitenant vertical retail. Designed by Beyer Blinder Belle and Brennan Beer Gorman, the redevelopment building features a new atrium containing escalators and elevators, which serves as a street-level entrance to the upper-floor retailers.
1535 BROADWAY
Times Square
The New York Marriott Marquis is located at the heart of the "bow tie" of Times Square, and spans the entire block-front from 45th Street to 46th Street on Broadway. The site is directly opposite Vornado's 1540 Broadway, giving Vornado bookended presence along one of the world's most popular tourist destinations.
Vornado redeveloped and substantially expanded the existing retail space of the popular Times Square hotel, the New York Marriott Marquis. The multimillion dollar redevelopment included the conversion of below-grade space into a high-quality retail venue and the creation of the largest 4K LED sign in the world; 8 stories tall, 330 feet wide and spanning the full city block.
608 Fifth Avenue
Plaza District
Vornado redeveloped 608 Fifth Avenue to create a high-quality, multifloor, corner-retail destination. Expanding the retail space vertically to the third floor increased the corner presence and provides a full building opportunity. With 59 feet of frontage on Fifth Avenue, 608 Fifth Avenue is prominently situated at the gateway to the most desired strip of retail in Manhattan: at the base of Rockefeller Center and in direct proximity to Saks Fifth Avenue.
640 FIFTH AVENUE
Fifth Avenue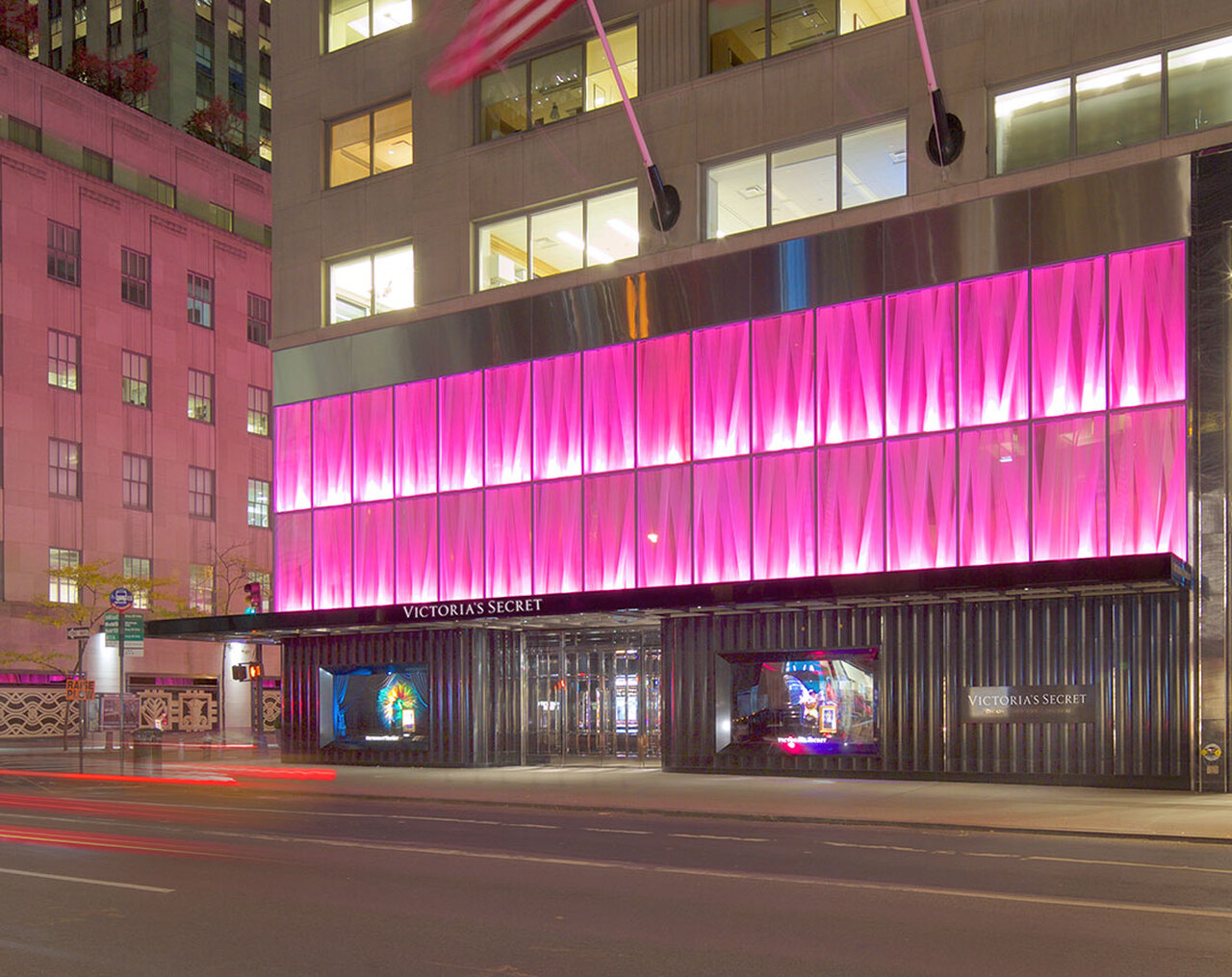 640 Fifth Avenue was an office building located across the street from Rockefeller Center and St. Patrick's Cathedral with a Citi Bank branch on the grade at Fifth Avenue. Recognizing the potential value of such a dynamic location, Vornado transformed the underutilized retail space into a three-floor, single-use vertical retailing destination with prominent avenue signage. This location became the site of famed retailer H&M's first U.S. flagship store. Vornado set a precedent for this type of creative occupancy, now seen in New York City's best retail corridors.
61 NINTH AVENUE
Midtown South
61 Ninth Avenue is adjacent to Apple's Meatpacking Flagship Store on Ninth Avenue and West 15th Street and across the street from the Chelsea Market and Google's NY Headquarters. 61 Ninth Avenue is home to Starbucks Roastery & Reserve, a 20,000 SF tasting room.
512 West 22nd Street, located just west of 10th Avenue and directly adjacent to the High Line. The West Chelsea neighborhood has become a popular destination with the High Line bringing in over 5 million visitors annually. This one-of-a-kind retail space blends the industrial elements of West Chelsea's past with ultra-modern state-of-the-art design for today's distinguished tenants.
606 Broadway is the gateway to SoHo located on Houston Street, between Broadway and Crosby Streets. The 34,000 SF ground up development, with over 11,000 SF of prime retail space, including over 200 FT of frontage, is located directly above the Broadway-Lafayette Subway Station. With multiple building entrances on Houston and Crosby, high vehicular and foot traffic, and the opportunity for in-building brand signage, 606 Broadway provides supreme brand visibility.
Residential
220 Central Park South
New York City
220 Central Park South is the preeminent new address in New York, situated directly on Central Park. Developed by Vornado Realty Trust, designed by Robert A.M. Stern Architects and The Office of Thierry W. Despont. 220 Central Park South accommodates contemporary lifestyles in an architectural setting inspired by the historic residences of New York. Clad in rich Alabama Silver Shadow limestone and featuring Robert A.M. Stern Architects signature interpretation of classical pre-war design, the building is a timeless addition to Manhattan's storied skyline. It is one of the very few buildings that, with generous height and precise location, afford their residents sweeping vistas of Central Park's full expanse encompassing its South-to-North length of two and a half miles and over eight hundred acres. Magnificent views of the park from every residence; a unique architectural composition featuring an intimate 18-story Villa and 79-story Tower both accessible from a secured off-street motor court with its arbor of mature trees; comprehensive lifestyle enhancements including private dining rooms and entertaining spaces, and an expansive athletic club and spa: all combine to create this new landmark in New York living.
The Park Laurel
New York City
Completed in 2002, this 41-floor tower designed by Beyer Blinder Belle and Costas Kondylis and Partners features 53 luxury residential condominiums overlooking Central Park. Highlights of the project include innovative sourcing of air rights from the YMCA and the brownstones to the north of the site, and restoration of the original landmarked façade.
Rego Park Residential
New York City
Vornado has constructed for its Alexanders affiliate a 24-story, 314 unit building above the Rego Park Center shopping center in Queens, New York.
40 East 66th Street
New York City
Completed in 2009, this 13-floor signature Rosario Candela building—in the heart of Manhattan's golden retail mile—was redeveloped into 22 elegant prewar-style homes with high-end modern finishes and amenities, featuring interior design by CetraRuddy.
Open Air Centers