2016 Sustainability Report
Scroll down
Current Stock Price $67.55 -$0.53 -0.78%
There are no upcoming events currently scheduled.
Portfolio
The portfolio is highly concentrated in two asset classes, office - in the nation's leading urban market: New York City - and Manhattan street retail.
Stock Performance
Vornado Realty Trust, one of the largest publicly traded real estate investment trusts in the United States, trades on the New York Stock Exchange under the symbol VNO. The company has been listed on the NYSE since 1962 and is an S&P 500 component. Investor Relations >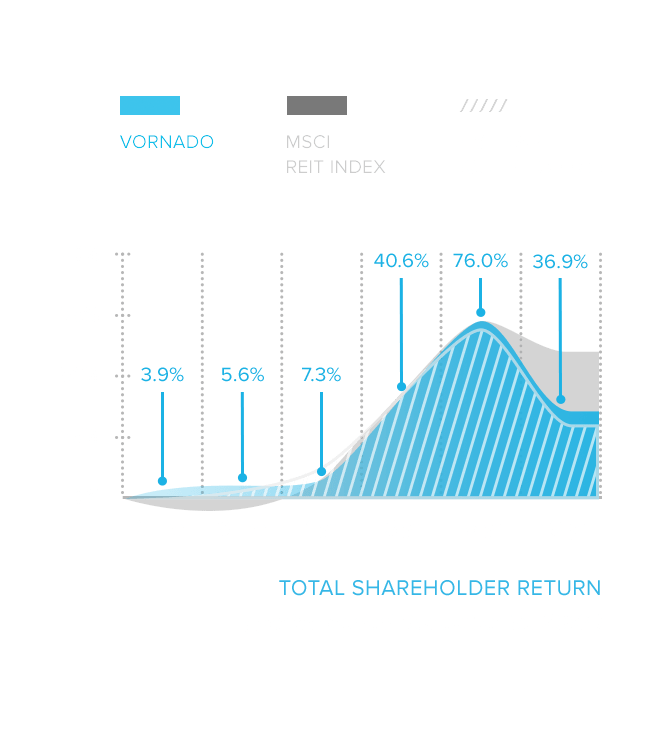 Scroll down
Sustainability
Vornado is the real estate industry leader in sustainability policy, programs and results. The company's long-standing and ongoing commitment to sustainable practices has been recognized by a wide variety of independent industry and sustainability groups. Sustainability Overview >
ENERGY STAR Partner of the Year Award, Sustained Excellence 2017

More than 25 million square feet of Vornado office buildings have been awarded the prestigious ENERGY STAR designation since 2008.

LEED Certification

Vornado is the largest owner of LEED-certified property in the United States, with more than 30 million square feet of LEED-certified properties.

Global Real Estate Sustainability Benchmark (GRESB) Green Star Ranking, 2013 through 2016

Vornado is also an active member on the GRESB Benchmark Committee.

Nareit leader in the light award, 2016, 7th year in a row

Vornado has been recognized by the National Association of Real Estate Investment Trusts (NAREIT) as the highest ranked diversified real estate investment trust.